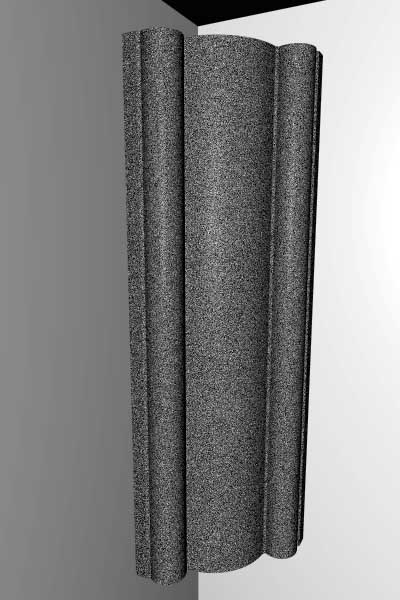 Acoustical foam provides the most cost-effective approach to controlling interfering reflections and noise. RPG® revolutionized the acoustic foam industry by introducing the first stackable foam with an innovative profile design. Now RPG® expands this concept by introducing ProCorner™: the first optimized corner mounted foam. By combining ProFoam™ and ProCorner™, a complete acoustical foam room treatment system is possible.
Problem
In rooms in which acoustic foam is used as the primary surface treatment, a system that includes coordinated, attractive wall and corner panels is needed.

Solution
The RPG® ProCorner™ complements the ProFoam™ nestable wall panels to create a complete acoustical foam room treatment. The ProCorner™ integrates seamlessly with the ProFoam™ wall panels and offers an NRC of 1 for exceptional broad-bandwidth absorption.

Select graph for details.
Absorption
The ProCorner™ offers ideal absorption across the audio spectrum in a convenient corner mounted panel. The graph indicates the random incidence absorption coefficient measured at Riverbank Labs.



The First Optimized Corner Mounted Profile Foam From The Acoustical Industry's Leading Innovator
FEATURES

New optimized and attractive corner profile
NRC of 1.0
Surface profile matches ProFoam™ wall panels
ProCorner™ installs easily
Available in white, gray flec, and white flec Class A Melaflex™ and charcoal gray, blue, and purple UL94 Polyflex™ (polyurethane)

BENEFITS

The ProCorner™ offers a designer corner treatment that adds an interesting acoustic sculpture to the room's corners, while helping to control excessive sound pressure buildup
An NRC of 1.0 guarantees that the ProCorner™ offers uniform absorption across the audio spectrum for a more uniform room response
The ProCorner™ seamlessly integrates with the ProFoam™ wall panels and ProFoam™ variable impedance diffusing panels to provide a complementary acoustical system for interior design and sound control
ProCorner™ is lightweight and can be easily mounted with adhesive for a quick and effective room rennovation

APPLICATIONS

Melaflex™ ProCorner™ is fabricated from non fibrous, fire resistant, open cell, lightweight (0.6 lb/cu. ft.) BASF melamine foam. It is in full compliance with all National Life Safety Codes for Class A interior use. Melaflex™ has a flame spread of 10 and a smoke development rating of 50 as per ASTM E-84 testing standards. Therefore, Melaflex™ ProCorner™ can be used in any critical listening space
Polyflex™ ProCorner™ is fabricated from a UL94 2 lb./cu. ft. polyester urethane, which should only be used in Class B or C spaces. Since Polyflex™ is flammable, extreme care should be exercised in its use as an interior finish

SPECIFICATIONS

Product Details

Cutsheets

Mounting Details

Acoustical Data